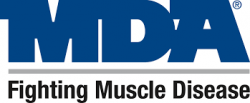 MDA : Muscular Dystrophy Association
About MDA
The Muscular Dystrophy Association is the world's leading nonprofit health agency dedicated to finding treatments and cures for muscular dystrophy, amyotrophic lateral sclerosis (ALS), and other neuromuscular diseases. We do so by funding worldwide research; by providing comprehensive healthcare services and support to MDA families nationwide; and by rallying communities to fight back through advocacy, fundraising, and local engagement. It's special work powered by special people who give generously. Visit mda.org and follow us at facebook.com/MDAnational and @MDAnews.
Get Involved
Find an Event MDA special events are a fun way to raise vital funds supporting MDA's battle against neuromuscular diseases.
Help by Volunteering Volunteers are the driving force that enables MDA to accelerate its worldwide research program and provide diagnostic and follow-up care through a nationwide network of 200 medical clinics.
Become an Advocate Sign up to become an MDA Advocate, and help support our neuromuscular community.
Ways to Help
Become a Muscle Maker Help continue the fight against muscle disease with a monthly contribution of $19.
Give a Legacy Gift Make a donation to MDA and help support worldwide research efforts and support programs nationwide.
Support our National Sponsors A vital part of MDA's financial support comes from strong partnerships — some decades old — with national sponsors.
Find Support
Find Support Through Services MDA is here every step of the way, ready to provide resources and guidance, traditional support groups, and ways to connect with others online.
MDA Resources Learn about research news, health care information, and helpful daily living strategies through print and online resources, including magazines, brochures, and booklets.
Transitional Services Get tools to assist youth with disabilities as they prepare for adulthood, and as they develop life skills necessary for becoming successful, contributing members of society.

to find out more visit them at http://mda.org/